<! *** START OF ICM *** >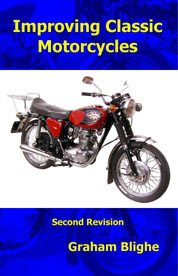 Improving Classic Motorcycles
&nbsp £12.50
A collection of modifications developed over 32 years of riding BSA singles and Triumph twins
Improving Classic Motorcycles is not a marque history, workshop manual or restoration guide. It is a collection of modifications, tips, tricks and sound advice gained through 32 years of year round riding. The modifications featured in this book were developed for the author's bikes (shown below left) but most are applicable to many other makes and models and all can be carried out in the home workshop. Design flaws, some never before made public are discussed and solutions given. Possibly even the motorcycle factories themselves were unaware of them. The results are real improvements in performance, reliability and safety.
How to make single leading shoe drum brakes provide real stopping power. Whether Triumph Bonneville or Tiger Cub, BSA Goldstar or C15 you need good brakes. Almost all sls brakes were designed without an understanding of an inbuilt design flaw. This is described for the first time in print and solutions given. The simplest modification costs nothing and can be completed inside an hour. Watch this video on YouTube and see the sort of braking you can achieve.
&nbsp
How to very simply greatly improve the reliability and performance of your bike's electrical system using the existing rectifier and zener diode. Have a headlamp as bright as a modern car, extend your battery life and make blown bulbs a thing of the past.
&nbsp
How to get the best from your ignition system whether electronic (Lucas RITA or Boyer) or contact breaker.
&nbsp
A detailed look at Amal Concentric mark 1 carburettors to help ensure you are using the right components.
&nbsp
Is your bike being held back by a bad silencer? Baffle design is key to good performance. See the sample pages for an example of a good one, buy the book to find out what works and what doesn't. Two more full-page, dimensioned silencers are included in the book with descriptions and performance test results of these and several others.
&nbsp
Modifications to cylinder heads and rockerboxes to improve longevity and stop oil leaks.
&nbsp
Plus mods and advice on clutches, gearboxes, tyres, steering head bearings and many other topics.
Everyone who rides a vintage or classic motorcycle will find this an interesting and thought provoking read. Almost all will be able to use at least one of the modifications and enjoy happier riding as a result.
Now reviewed and given the thumbs up by RealClassic magazine, the BSA owners (The Star) and Triumph owners club (Nacelle) magazines, BMF Rider magazine and Old Bike Mart.
Colour covers, B&W interior. 6.6x10.2 inches. 104 pages. 30,000 words, 36 diagrams. Original first edition published 2008, second revision published October 2010
Read sample pages by clicking on the page numbers below
Back Cover&nbsp Page 3&nbsp Page 4&nbsp Page 33&nbsp Page 44&nbsp Page 53&nbsp Page 85&nbsp Page 100&nbsp
---
<! *** END OF ICM *** > <! *** START OF MSR *** >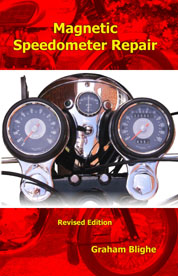 Magnetic Speedometer Repair
&nbsp £12.50
The definitive guide to the repair and calibration of Smiths magnetic SSM speedometers and RSM tachometers
Fix it yourself and never have to pay or wait for repairs again. Instruments can be calibrated on bike or on an easy to build rig. Full instructions given every step of the way. No specialist tools required, just a cycle computer.
Also covers fault diagnosis, cable and drive gearbox maintenance and repair.
Unless a repair specialist asks you for the circumference of the rear tyre and ratio of the drive gearbox you are using, you are missing out on potentially greater accuracy that you can get by calibrating a speedometer yourself. Standard calibration gives an error of up to 5% with 1600 revs per mile instruments and sometimes more with 1000 revs per mile. This book shows you how to tailor the calibration for the machine the speedometer is used on and in most cases accuracy to within 2% can be achieved.
Watch the promotional video for this book on YouTube. The video shows some of the dismantling and calibration stages.
Many instruments will only need cleaning but this book also shows how to repair a shattered magnet, replace the upper bearing and fix an aluminium disc turning on its spindle. All repairs can be made at zero cost with the usual hand tools. Repair rather than replace with a part taken from a donor instrument and help all of us by preserving the stock of these instruments.
Now reviewed and approved by RealClassic magazine, BMF Rider magazine and Old Bike Mart.
Colour covers, B&W interior. 6.6x10.2 inches. 84 pages. 16,500 words. 57 illustrations. First published July 2009
Read sample pages by clicking on the page numbers below
Back Cover&nbsp Page 5&nbsp Page 20&nbsp Page 27&nbsp Page 29&nbsp Page 40&nbsp Page 64&nbsp Page 65&nbsp
Please note: A reader of this book set up a website in 2012 with the same name. That website does not cover the SSM/RSM instruments I specialise in and I am not associated with or endorse that website in any way.
---
<! *** END OF MSR *** > <! *** START OF ICME *** >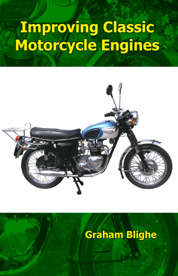 Improving Classic Motorcycle Engines
&nbsp £12.50
The third in the Improving Classic Motorcycles series of books concentrates on four stroke engines and takes an in depth look at oil tightness, crankcase breathing, valve timing, exhaust systems and vibration.
How to stop oil leaks including areas not catered for on early machines like gear and kickstart shafts. There is no substitute for top condition gaskets and seals but they won't last long without a properly functioning crankcase breather. Why timed breathers are better than untimed, how to measure and adjust the breather timing, one-way and reed valves.
&nbsp
Why you should check your valve timing and not rely on punch marks on camwheels. How to check it accurately. What to do if it is wrong. Plus valve lift graphs showing quietening ramps, the difference between sports and touring cams and how to create lift graphs of your own.
&nbsp
Does your classic bike vibrate? Do you limit your cruising speed to avoid the vibes? Methods to lessen the effects of vibration and to reduce it at source.
&nbsp
Almost all the pattern silencers I have seen have no science in their baffles and are just a guess at what might work. Bad silencers can harm performance and cause vibration. This may be affecting the bike you ride and spoiling your enjoyment of it. I have developed and tested theories on what happens in exhaust systems and turned this into a set of guidelines for silencers that work. Included are ways you can test your exhaust system to see if it is causing bad performance and vibration. Also covered - the effects of a balance pipe and anti-reversion devices. Before considering crank balancing or pulling the engine apart - read this book!
Now reviewed by BMF Rider magazine and Old Bike Mart.
Colour covers, B&W interior. 6.6x10.2 inches. 96 pages. 23,000 words. 51 illustrations. First published February 2011
Read sample pages by clicking on the page numbers below
Back Cover&nbsp Page 3&nbsp Page 4&nbsp Page 9&nbsp Page 14&nbsp Page 19&nbsp Page 47&nbsp Page 52&nbsp Page 73&nbsp
<! *** END OF ICME *** >